"All you recruiters, TA leaders, innovators, system owners, optimizers; all of you who've dedicated your career to helping companies find talent, to help people find jobs: this is your Hiring Success." – Jerome Ternynck, SmartRecruiters
Hiring Success is an annual event that brings together industry insiders, practitioners, and HR technologies for two days of brain-sharing and innovation. This year's show was near double the size of last year's, and better than ever before. From powerful opening remarks to little cards urging attendees to recognize their most recent "Hiring Success" (i.e. the hire that makes you feel like you won the lottery because they grew to become an important team member or advocate) the opening ceremony hit all of the right notes.
"Who you hire defines your company more than any other activity. It defines your outcomes as well as your culture. It defines your success as well as your failures. Who you hire defines you as a leader. You are who you hire."
That statement from SmartRecruiters CEO Jerome Ternynck set the stage for the rest of the conference. From the panels and breakout sessions to product demos and the Recruiting Startup of the Year competition (special shout out to Honeypot for winning) – attendees, speakers, and vendors emphasized the importance of building relationships, interacting, and empathizing in the hiring process. Two big topics that were specifically called out:
Diversity, Empathy, and Inclusion
Diversity is fodder for creativity, innovation, and change – three things that businesses desperately need in order to realize long-term success. But building a diverse workplace isn't just hiring someone with a different background just for the sake of hiring someone "diverse." It's working to understand and accept a group of candidates, new hires, and employees without judgement, preconceived notions, unconscious bias, or prejudice.
Unfortunately, individuals with a criminal record, or individuals that are in the minority due to race, religion, sex, physical, mental, or emotional impairments, routinely deal with bias before, during, and after the hiring process. Despite efforts, employers and peers still have a hard time embracing diverse candidates and hires as equal and able members of the team – which impacts engagement, productivity, and retention rates company-wide.
Hiring Success emphasized the importance of building inclusive environments by offering several powerful panels that covered everything from gender parity and race to hearing accessibility and criminal history. Each session brought us back to the central theme that we all deserve the same level of respect and consideration in the hiring process, and catering to one specific subset of candidates cripples an organization's ability to evolve.
Speakers were sure to point out that if you comfortably fit into the societal norm, then empathy and understanding can be challenging. Unconscious bias and unquestioned beliefs build walls that block us from fully including others – especially when backgrounds, experiences, and points of view differ. The key thing here, though, is not to let that stop you from progressing. Work on shifting perspective. Reach out. Educate yourself. Make connections, and share your knowledge. Practice mindfulness and be a champion for change in your organization, industry, and community.
At the end of the day, diversity and inclusion shouldn't be a title. It should be the standard.
The Human in HR
Over the years, HR has shifted towards using technology to automate everything from sourcing to selecting new employees; and candidates today are spending more time during the recruitment phase with AI, bots, and automated emails then they are with living, breathing human beings.
While that's amazingly convenient for general questions, role investigation, and compliance, it's a truly horrible experience when candidates are ready to engage and start connecting with the company on a more meaningful level. It's like calling for support and then getting an auto response that leaves you mashing the "0" key or re-enacting a Discover commercial.
The general advice from influencers like Bill Boorman and Matt Charney is that we can't ignore the benefits of bots, AI, and automation. They positively influence performance rates, cut down on time and resources, and add a nice little bump to the bottom line. We should, however, be more strategic in how we use them. These are tools meant to help facilitate face-to-face interactions – not act as a full-blown replacement for recruiters and TA.
Take a look at where Xref suggests bots can be beneficial, and where a more personalized – human experience is necessary.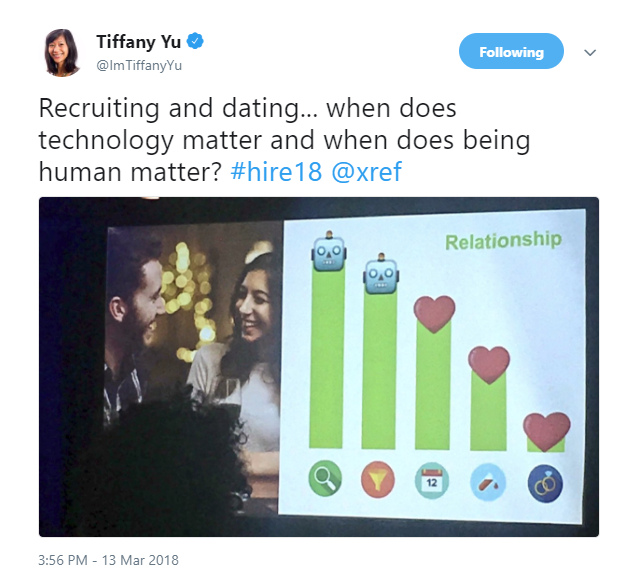 When a company is able to strike the right balance between automation and engagement, it makes things more efficient, accurate, and cost effective for the organization while positively impacting the candidate experience and employer brand.
These two topics are by no means the only buzz-worthy moments from Hiring Success 18, but they did round out a fantastic conference. As recruiters and talent acquisition specialists, you have the power to shape the organization – for better or for worse. #hire18 provided some tools and talking points to help TA use HR technologies strategically and make time for human interaction – across all genders, ages, races, religions, ethnicities, abilities, and backgrounds. Those who take action on the knowledge shared at this show will see a lot more hiring success come 2019.
Want more onboarding?
Get the latest news and content delivered straight to your inbox!
© Click Boarding™ is a trademarked company. 2018 Click Boarding LLC. All Rights Reserved.
PRIVACY POLICY | TERMS & CONDITIONS | SYSTEM REQUIREMENTS
---